Spring is Coming!
Get ready for spring with our Soil Conditioner, Potting Soil and Top Soil products in bags or bulk! Shasta Forest Products has everything you need to keep your plants healthy and happy.
NEW! White Fir Bark for Orchids
Shasta Forest Products, Inc. has been manufacturing decorative bark products since 1975 and we only use untreated White Fir Bark for the production of our Orchid Bark.  Shasta Forest Products, Inc. has found over the years that White Fir Bark is best suited for the orchid grower's needs.  White Fir Bark is a denser bark, therefore does not decompose as fast and supports the orchid plant for a longer period of time.  White Fir Bark also helps to aerate the roots more efficiently and maintains a better drainage for your orchid plants.
$4.49/Bag
Featured Products
Get ready for spring with our quality potting soils! Whatever your plants need, we have a product that will keep them healthy and growing strong.
PVC Fittings and Irrigation Supplies
From PVC pipe fittings to sprinklers and nozzles, we've got you covered for your next irrigation project.
See Details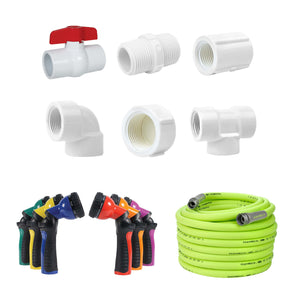 Wine Barrels
Add warmth and ambiance to your outdoor living space with this wine barrel fire table. Whether hosting a huge backyard party, an informal last-minute get together or an evening for two– this wine barrel fire table suits any occasion. Perfect for your backyard or patio areas. Half barrels and whole barrels available. 
See details
Wholesale
Shasta Forest Products, Inc. currently supplies decorative landscape bark, mulches, and soil amendment products throughout California, Southern Oregon, and Nevada. We also manufacture playground wood fiber which is used in playgrounds for schools, city parks, and in your own home playground facility. We deliver these products in our own semi-trucks. Many of our trucks are doubles, so we can deliver two different products at the same time. 
Wholesale customers only. 
WHOLESALE BAG SALES
Shasta Forest Products, Inc. carries a full line of bag products for our customers. Bag sizes run from one to three cubic foot bags depending on product and product weight. We offer our Shasta Forest Products, Inc. and Vita Bark bag lines, which includes our Orchid Bark. Our bag products are sold all over the continental United States, Hawaii, and some international markets as well.
Shasta Forest Products, Inc.